Recent Comments
Thank you Peggy Brown. These are exactly my feelings. Sometimes saving means letting them go. Doing...
Kellie Snider, you make valid points regarding assessments and marketing, and I agree with you based on...
By Lynette Elliott on Home-able - 9/20/2016 at 2:00pm
Well stated, Roxanne. I totally agree.
Good Job! 10 Ways to Acknowledge Great Work
Do you supervise staff or volunteers? How do you show appreciation to them for a job well done? Check out these ideas for staff recognition shared by your colleagues in the sheltering field during our webinar, Hiring, Firing and Supporting Your Staff, presented by the ASPCA's Kate Pullen. (And P.S., if you're not in a supervisory role, keep
reading—there are some great suggestions for letting your coworkers know you are thankful for their hard work.)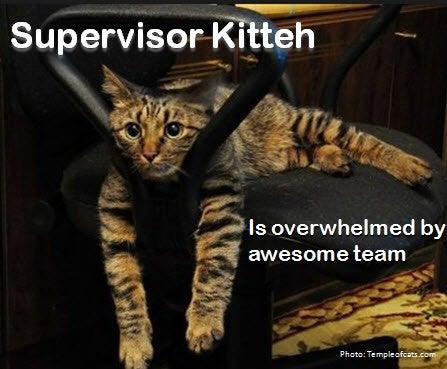 - "We have a thank-you box, and at each staff meeting we read all of the thank-yous for specific staff members."
- "Each month I get a card going around to celebrate the work anniversaries and get that person a gift certificate. It honors their time with our agency."
- "We have a Victory Wall—a large bulletin board where staff from other departments can see on their way to the kitchen. My team posts thank you emails and photos from people we've helped."
- "Send thank-you emails to the staff for small things, and be sure to copy their managers on it."
- "We write notes and post them on the windows of cubes for all to see."
- "It may be juvenile, but I love to give the staff 'high fives' when they've done something well. It is a very visual thing that makes everyone happy."
- "We have a 'Things That Make You Happy at Work' board"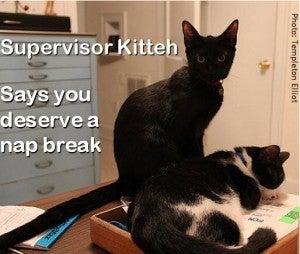 - "We have a Bonus Bones
program—employees and managers compliment one another by putting a 'bone' on a bulletin board."
- "We have a whiteboard in the kitchen that's updated daily for all to note who we are appreciating that day and why."
- "Use the 10-4 rule—always acknowledge staff and volunteers when passing in the hall." [Note: Emancipet's Amy Mills references this in her webinar, Customer Service for Social Change."]
Have you tried any of these? Got any others to add to the list? Leave a comment and share your ideas.
Related Links
Webinar recording: "Hiring, Firing and Supporting Your Staff"
5 Ways to Show Volunteers How Important They Are
Tip of the Week: Staff Recognition That Really Pays