Dr. Emily Weiss digs into some stats on why people choose the pets they do—and asks you to share your experience with adopters who don't find what they want.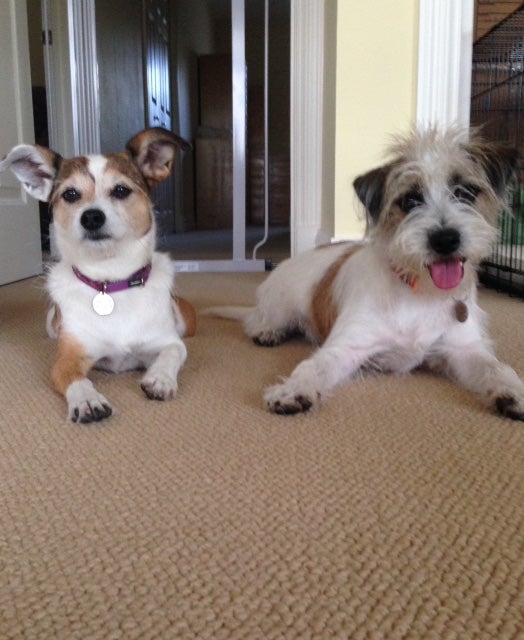 You may have read my blog earlier this year introducing you to my newest family member, Mr. Tide. At the time of adoption, I learned Tide was a product of a relocation—a sato from Puerto Rico. He would join my girl, Sea—a transport from the Central Valley of California.
While yes, he was an impulse adoption, I knew what I wanted and I quickly scrolled through pictures on the shelter's website, scanning and eliminating based on sex, size and more. Then—there he was… all white and brown fluff of him. Turns out I am just like most people… when choosing a dog.
A couple of years ago we conducted some research aimed at exploring various factors that may influence the choices people make when adding dogs to their households. We also wanted to learn more about an aspect of relocation programs—the variety of choice that relocation programs can bring to a community.
We surveyed over 1,000 people who had either acquired a dog in the past year or were looking to acquire a new dog in the next year. One of the questions we asked those who had acquired a dog in the last year was, "What would you have done if the source you chose did not have a dog who matched your preferences?" Nearly 30% of respondents said they would have delayed their decision or waited to find the right dog, while 20% said they would check other sources or keep looking. Some respondents specifically stated that they would check an animal shelter or rescue (20%). Less than 6% said they would not have gotten a dog, and 2% said they would have chosen a different dog.
That feels worth repeating—two percent said they would have chosen a different dog. Hold on to that for now, we are going to swing back to it soon…
We conducted something called a conjoint analysis, which allowed us to gain a better theoretical understanding of how important different attributes were in choosing a dog. We prefaced the questions associated with the analysis with this statement: "In the following questions, you will be asked to rate how likely you would be to acquire a dog with certain characteristics. Please respond as if you are attending an event where many dogs will be available from a variety of sources including pet stores, breeders, animal shelters, rescue groups and others. If you were looking for a dog and attended this event, how likely would you be to choose the dog described?" We used a 5-point scale for each. By presenting a different mix of attributes in each choice, we could analyize the strength of particular attributes.
What we found is, well, people want what they want—and there is a lot they don't want—and there is a lot of variety as to what they would like. Some are more likely to choose small dogs, others would choose large; some don't want puppies, others don't want adults. The graph below illustrates how negative responses (not likely at all to choose this pet) outweighed  positive responses (very likely to choose this pet) for the factors we measured.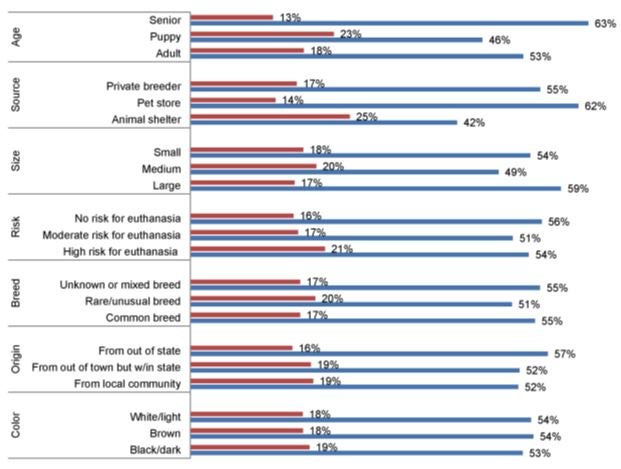 So, what does it all mean? Think back to that first stat I shared that only 2% of the people we surveyed reported they would choose a different dog if the source they went to did not have a dog who matched their preferences. Now consider this data, which shows that not everyone wants the same thing. If your facility does not have a large variety of animals available, those who don't find their preference who may have adopted from you are likely leaving and choosing a pet from another source. Now, depending upon your shelter's goals and mission, that may be just fine—or it may not. 
Something to chew on I suppose (probably better than the shoes Tide has chosen!). What are your thoughts?
Related Links
Blog: "Meet My New Impulse"
Research: "Why Did You Choose This Pet?: Adopters and Pet Selection Preferences in Five Animal Shelters in the United States"
Comments
About the Author
Emily Weiss, PhD, CAAB
ASPCA Vice President, Research & Development
Dr. Emily Weiss' work at the ASPCA involves developing programs and processes that focus on impact on animal welfare. In her previous work as a behaviorist, she developed training programs to improve husbandry and decrease stress for many zoo animals. She has also developed assessment tools for shelter animals, including the SAFER assessment and Meet Your Match Canine-ality, Puppy-ality and Feline-ality. Dr. Weiss is co-editor of the Journal of Applied Animal Welfare Science, and has published and lectured extensively in the field of applied animal behavior.
Get our Blog content delivered direct to you.
The latest posts from ASPCApro experts and thought leaders delivered directly to your inbox.
Explore ASPCApro Tools & Tips by Topic: