Recent Comments
I think you are painting with too coarse a stroke. "see that person as someone who could use a helping...
I have always identified with animals more than humans. In fact, I am often ashamed of humans as a...
IF THEY ARE GOOD PEOPLE THEY SHOULD FEEL ANQUISH AT HAVING TO LEAVE THEIR ANIMAL AT A SHELTER. BUT THERE...
Yours Free: Guide to Taking Amazing Event Photos
Photos capture the essence of your event and can inspire adoptions, donations and media attention. Make sure your photos are picture-perfect with our free 11-page guide, Top 10 Tips for Compelling Event Photos. You'll get insider tricks in a quick and easy-to-read format—including the best time to shoot outdoors (spoiler alert: in the morning or late afternoon) and the most important thing to focus on when taking photos of animals.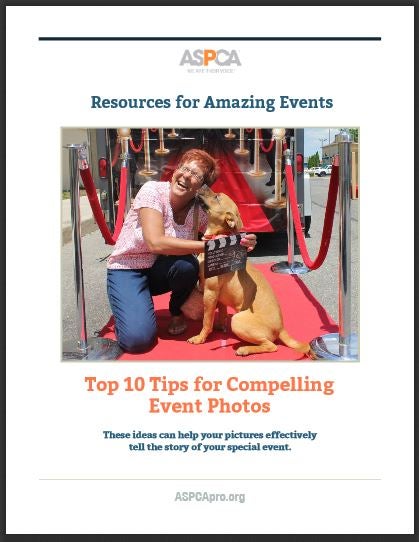 Bonus: For even more impact, check out our 10 Tips for Shooting Great-Looking Video
Related Links
5 Free Downloads: Event Planning Made Simple
Tip of the Week: What to Include on Adoption Photos