Recent Comments
To date I have not encountered a potential adopter that I felt might not work out. I've helped people...
I totally support the open adoption process. Most people are good and will do the best they can. However...
In my community group, we use tags that owners can write their phone # on. These are the same tags that...
Yours Free: Guide to Taking Amazing Event Photos
Photos capture the essence of your event and can inspire adoptions, donations and media attention. Make sure your photos are picture-perfect with our free 11-page guide, Top 10 Tips for Compelling Event Photos. You'll get insider tricks in a quick and easy-to-read format—including the best time to shoot outdoors (spoiler alert: in the morning or late afternoon) and the most important thing to focus on when taking photos of animals.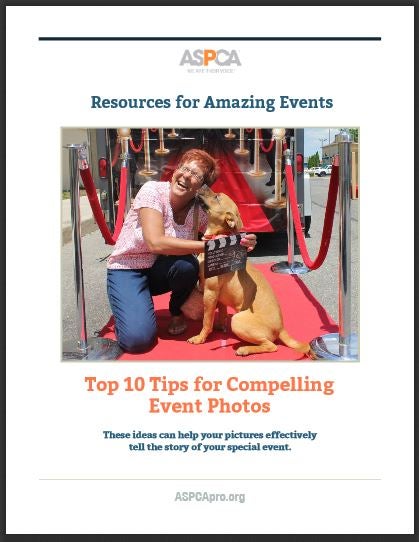 Bonus: For even more impact, check out our 10 Tips for Shooting Great-Looking Video
Related Links
5 Free Downloads: Event Planning Made Simple
Tip of the Week: What to Include on Adoption Photos