Facebook Basics: Timeline Cover Photo Dimensions
When you design your timeline cover photo, it's a good idea to size your image according to Facebook's specifications—otherwise, FB will automatically resize your photo to fit, which could lead to issues like unintended cropping.
Use your photo editing program to make your cover photo 828 x 315 pixels. Keep in mind that the viewable area on a mobile phone is smaller at 640 x 360 pixels. Refer to Facebook's help page for details—and to get the latest updates, as information is subject to change.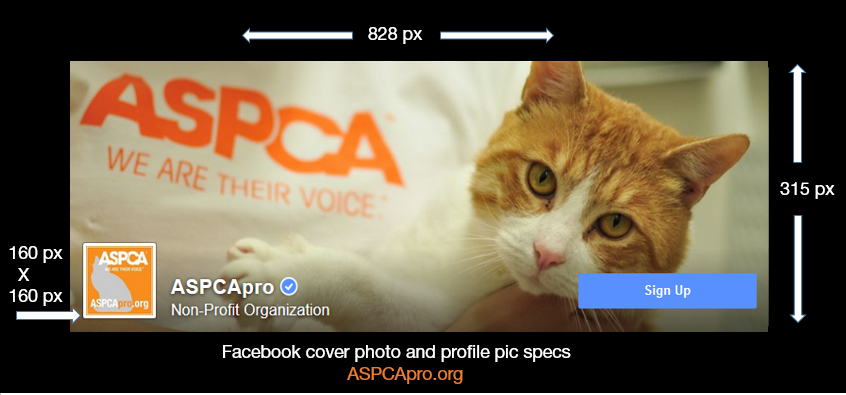 Don't forget to account for the area occupied by your profile pic (160 x 160 pixels), as well as the call-to-action button on the lower right and the name of your organization.

Check out how SPCA of Texas concentrates their content on the upper left and the right of their cover photo. This avoids a cluttered look by leaving plenty of blank space on the lower left for the agency's name and profile pic.
The social media experts at SPCA of Texas offer additional tips in our webinar, The Rise of the Meme: How to Engage Your Audience in Social Media, including:
Cover photos should be simple and inspiring. Don't use too much text. An image of a staffer with an animal is a good choice, but figure out what resonates with your audience.
Use your logo as your profile pic for insta-brand recognition. Remember, the photo for your profile pic is what shows up on timeline feeds and when you comment on other pages.
Related Links
The Rise of the Meme: How to Engage Your Audience in Social Media
Social Media 201: Inspiring Fans to Take Action
Tags