Recent Comments
To date I have not encountered a potential adopter that I felt might not work out. I've helped people...
I totally support the open adoption process. Most people are good and will do the best they can. However...
In my community group, we use tags that owners can write their phone # on. These are the same tags that...
Plan Ahead: 7 Strategies for Kitten Season
I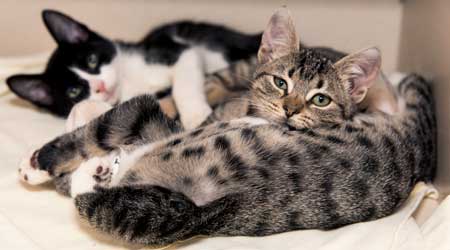 t's almost around the corner—so now's a great time to start preparing for kitten season. We've got 7 tools and tips to get you going.
How (and Why) To Track Length of Stay for Kittens
By keeping a simple spreadsheet to track the number of days each kitten waits to be moved into foster care, you'll easily identify and investigate any increase in wait time, which could be a red flag that an increase in disease is not far behind.
---
Analyze Your #s and Make Kitten Season Live Release Season
Are you ready to save more neonate lives this year? Dr. Emily Weiss urges you to bring on the volunteers and get out your data—here are the stats to look at.
---
Start a Program: Offsite Neonatal Care for Kittens
In order to reduce the number of neonate kittens entering the shelter and to increase community involvement, Miami-Dade Animal Services launched the Milkman Program, where ACOs provide training and neonate care kits to folks who have called to report kittens with no mama. Here's how you can do it, too.
---
Free Poster: How to Determine Kitten Gender
Ooh kittens! Such cute little guys. Um, girls? Better download our at-a-glance poster for sexing cats!
---
The Best Way to Test for FeLV/FIV
Kittens in the same litter may have different test results for a number of reasons, so don't assume that the results of one kitten are representative of those for the entire litter. Here's the scoop.
---
Volunteer Project: Sock Hats for Preemies
Simply cut out ear holes in the toe of an infant sock. Here's what that looks like.
---
Clever Ways to Message Kitten Season
You know kitten season is your busiest time of year, but do your supporters understand that you need their help—and why? With some fun and catchy messaging, like the 4 examples here, you have a better shot of bringing more donors, volunteers and foster families on board.
What's your strategy for kitten season this year? Please share your plans.
Related links
How to Throw a Kitten Shower
Tip of the Week: Kitten Season Prep Starts Now