Recent Comments
To date I have not encountered a potential adopter that I felt might not work out. I've helped people...
I totally support the open adoption process. Most people are good and will do the best they can. However...
In my community group, we use tags that owners can write their phone # on. These are the same tags that...
Tip of the Week: Stick To It
Ask supporters to help celebrate Spay/Neuter Awareness Month by donating adhesive rollers. These can be used to pick up any fine hairs that are missed by a vacuum when a spay/neuter surgical site is shaved. This is important as such hairs can interfere with sterility of the site and complicate closure of the skin.
After use, the adhesive tape is removed and the roller is ready for the next patient.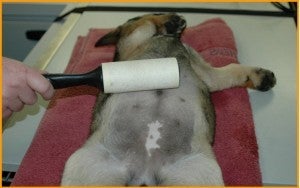 Ready to roll with this idea? Let us know your thoughts!
Photo and tip: Dr. Philip Bushby, DVM, MS, DACVS
Related Links
"Tip of the Week: Get On A Roll"
Tags