Recent Comments
Actually I do this with my outdoor feral cats. Momma acknowledges me with a blink. Papa who is a scaredy...
Thank you for this!! A smile makes the difference! This goes for a pup you have had for years or a new...
I got several rejection letters from rescues because we gave up a dog 16 years ago when we had a baby and...
By Bananas and blueberries on I Was Them - 8/22/2016 at 5:25am
Tip of the Week: Stick To It
Ask supporters to help celebrate Spay/Neuter Awareness Month by donating adhesive rollers. These can be used to pick up any fine hairs that are missed by a vacuum when a spay/neuter surgical site is shaved. This is important as such hairs can interfere with sterility of the site and complicate closure of the skin.
After use, the adhesive tape is removed and the roller is ready for the next patient.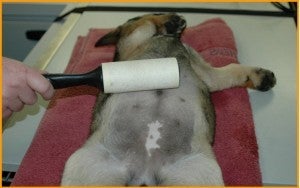 Ready to roll with this idea? Let us know your thoughts!
Photo and tip: Dr. Philip Bushby, DVM, MS, DACVS
Related Links
"Tip of the Week: Get On A Roll"
Tags