Print & Post: Customizable S/N Community Cat Flyer
Looking for easy ways to promote your services during Spay/Neuter Awareness Month? Here's one from Alley Cat Advocates with a big return—flyers advertising free spay/neuter and vaccinations for community cats.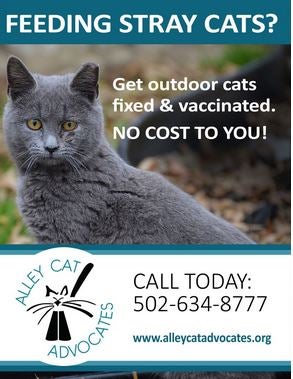 According to Karen Little, Alley Cat Advocates' co-founder and executive director, winter months especially are rough for the Louisville agency, with way fewer requests for spay/neuter services and many surgery slots going unfilled. To encourage spaying and neutering over the winter, the agency began hanging flyers in October 2015 in parts of town with the highest shelter intake. Little says they hang the flyers, which advertise free spay/neuter and vaccinations for community cats, everywhere they can in the targeted neighborhoods, including:
Veterinary offices
Animal welfare agencies
Pet supply stores
Groomers and trainers
Community centers, libraries and senior centers
Stores—thrift, consignment, peddler malls, bingo halls, book stores, coffee shops
Laundromats
Churches
Mobile home and apartment community areas
On screen doors of private omes
Since Alley Cat Advocates began placing the flyers, Little reports that every week they have heard  from people who saw the flyers and called for services. And, says Little, "So far the surgery slots have been completely filled each week throughout this winter."

Download and customize your own "Feeding Outdoor Cats" S/N Flyer.
Big thanks to Alley Cat Advocates for providing this great-looking template!
Related Links
Spotlight on Alley Cat Advocates