Recent Comments
Thank you Peggy Brown. These are exactly my feelings. Sometimes saving means letting them go. Doing...
Kellie Snider, you make valid points regarding assessments and marketing, and I agree with you based on...
By Lynette Elliott on Home-able - 9/20/2016 at 2:00pm
Well stated, Roxanne. I totally agree.
Tip of the Week: Tat Marks the Spot
Did you ever wonder, Is this animal already spayed or neutered?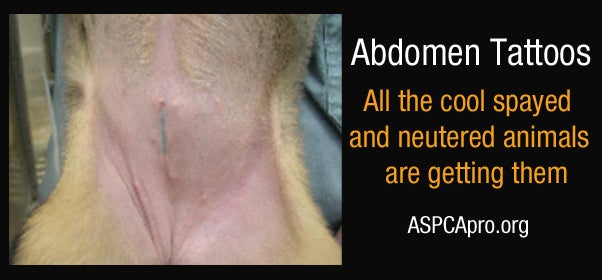 A tattoo placed on the lower abdomen of spayed and neutered animals is a great way to indicate that an animal has been surgically altered. Doing this avoids an abdominal exploratory surgery that may be unnecessary.
Check out the instructions on tattoos on page 11 of our comprehensive, free booklet Special Considerations for Community Cats at Spay/Neuter Clinics.
Doing this already? Need to 'ink' about it first? Let us know your thoughts.
Photo: Brenda Griffin, DVM, MS, DACVIM
Related Links
Spay/Neuter Resources: Facebook Album
"Tip of the Week: Hair Today, Gone Tomorrow"