Look 'Em in the Eye (and other ways to help increase adoptions)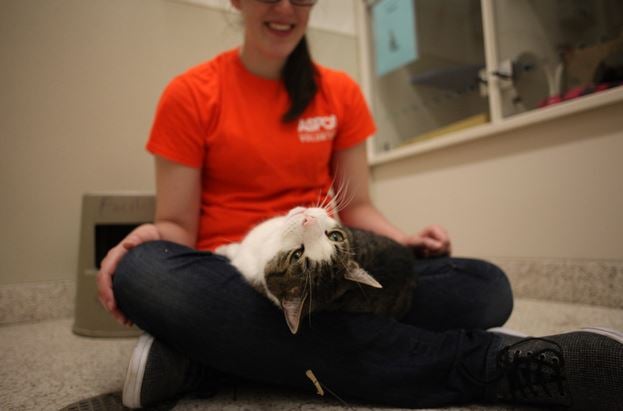 Dr. Emily Weiss shares 5 things you can do on the adoption floor today that may lead to more lives saved.
Kitten season is right around the corner, and now is a great time to ramp up adoption strategies for adult cats to keep capacity in check. Strategies such as fee-waived adoptions and managing the number of visible cats on the adoption floor are great ways to light an adoption fire. This blog post from a few years ago offers some other simple tweaks you can make that may lead to more lives saved!
Height Matters… and more interesting facts that can increase adoptions
Originally published July 8, 2010
Recently, the Journal of Applied Animal Welfare Science (JAAWS) published a research report focused on factors relevant to adoption of cats in an animal shelter. The research was conducted by Jackie Fantuzzi, now at Animal Rescue League of Boston, and it served as her Master's thesis. Both the ASPCA's Dr. Kat Miller and I were honored to serve on her committee.
The research was conducted at the ASPCA Adoption Center in New York City. Fantuzzi focused her work around adult cats on the adoption floor. Cats were singly housed in glass fronted cages—the cages were in 2 tiers—so cats were either in cages at eye level or below eye level. Cats were randomly assigned to 1 of 2 groups: a toy group (there were toys in the cage) or a control group (no toys in the cage).
Observations occurred over 16 weekends, with some interesting trends:
Cats at eye level were viewed by adopters longer than cats not at eye level
Cats with toys were viewed longer. While the cats with toys did not interact with the toys in any significant way, the presence of toys in their cages increased the amount of time adopters viewed the cats.
Cats who were active were viewed longer than cats who were not active.
I suspect you are already thinking of some ways to use this data. Here are some ideas I have considered—with an aim toward increasing transition rate (number of potential adopters walking in your doors who actually adopt):
Place toys in with your cats—ideally, these would be toys that your cats interact with—maybe a food-filled ball. Since the data showed that adopters viewed active cats and cats with toys longer, it is likely that a cat who is active with his toy will be viewed longer.
Place kittens low (as they are likely to be viewed no matter what) and adults at eye level. Even better, simply get rid of those very low or very high cages.
Try to time feeding or other enrichment around your busy adoption hours to increase the likelihood your cats are active when your adopters are there to view…IMPORTANT—be sure you have adoption counselors in the cat areas so that when a potential adopter lingers in front of a cage, there is a counselor there to capture that interest and turn it into an adoption!
Have you already tried any of these strategies? Have others relevant to the data? I would love to hear how it worked for you.
Related Links
Blog: "Are You Giving Cats the Workout of Their Lives?"
Fee-Waived Adoptions
ASPCA Research: Less Is More on the Adoption Floor