25 Years in Animal Welfare: Thank You, Julie!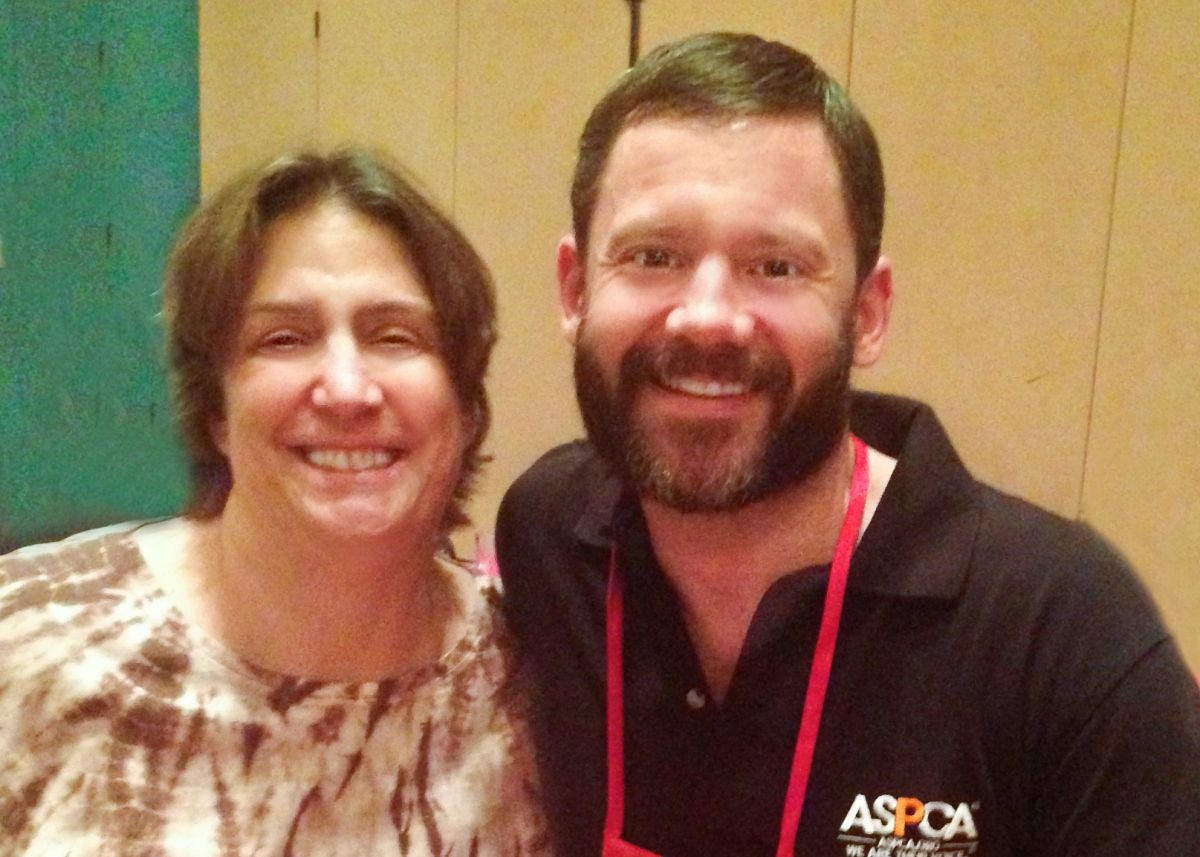 Late last year marked 25 years of service to the ASPCA and the animal sheltering field by our own Julie Morris, Senior Vice President, Community Outreach—inspiring guest blogger Michael Barrett to write this wonderful tribute to his colleague and mentor.
I'm not sure I had even heard of the ASPCA when Julie started her tenure here, but in my comparatively short 8 years at the A, I've never taken for granted the significance of Julie's 25. When asked what I thought was Julie's biggest contribution to the ASPCA and to animal welfare, I found myself going back to an event that I see as a turning point in history for the ASPCA and its mission: Hurricane Katrina.
Julie got my attention during our first encounter—my job interview!—when, on the heels of my participation on the Hurricane Katrina-inspired Best Practices in Disaster Grantmaking publication, I sat in awe as Julie cheerfully rattled off all the ways that the ASPCA had responded to the crisis. I had spent the previous several months interviewing key players on both the grantor and grantee sides of the Katrina response (for people, not animals) about their mistakes, regrets and lessons learned. And here I was interviewing for a job with someone who was telling me, not in her own judgment, but literally in line with the recommendations of the forthcoming best practices publication, about all of the things that the ASPCA and animal welfare did right.
Ten years after Katrina battered the Gulf Coast, Julie still gets praised for her role in the ASPCA's response in the field and as a grantor, but many in the animal welfare field may not understand the significance of her leadership during that crisis and the impact it had on the trajectory of the ASPCA and the welfare of animals. At a time when local and national charities made headlines for their lack of preparation, coordination and response to the people suffering from the aftermath of the storm, it's common knowledge in our field that Julie was a driving force behind the kind of collaboration among national, regional and local animal organizations that is the envy of people-focused charities and even government. The kind of large-scale cooperation doesn't happen easily, however, and I suspect anyone with first-hand knowledge would recount how Julie's astuteness and courage, combined with hard-earned trust and respect from a broad network of long and strong relationships, made a difference for animals.
Animal welfare's response to the disaster, including the response of the ASPCA, resulted in the development of best practices in disaster response for animals and people. These efforts also helped raise the profile of animal organizations, while elevating animals themselves to a higher place in society than they had been before the storm. In contrast to those harrowing days before Katrina made landfall, ten years on, people are more likely to regard animals as an integral, non-expendable part of the family. Forcing people to choose between evacuating a disaster zone without their pets or staying behind with them to ride out the storm or even die may have made practical sense to many people at the time, but not anymore. Nowadays, putting a human in that situation would be considered cruel to both the animal and the human.
Even the ASPCA, the HSUS and much of the animal welfare field in general have shifted their mindsets and resources from traditional shelter- or other institution-focused approaches to intake prevention and retention solutions. Keeping pets from entering a shelter in the first place is now a cornerstone of animal protection that places real value on the privilege of living out our lives with happy, healthy pets by our side. Would this evolution have happened without lessons learned from Katrina? Maybe, maybe not, but the "affectionate precision" for which the ASPCA has become known is an expectation of our donors, partners and the public, and I believe this legacy of competence was emboldened by the actions taken by the ASPCA and its partners before, during and after Katrina, with Julie playing a lead role.
As Julie looks back on her 25 years of service, the ASPCA approaches a whopping 150th anniversary this coming April. Looking outward, the growing widespread public acknowledgement of the importance of our pets and other animal friends to us as individuals and as a society can't just be attributed to the "Internet age," the "information era" or even the "rise of social media" to which we frequently credit positive societal changes. Those are merely concepts and vessels of content that rely on actions of influencers like Julie. And on a more personal level, while the details are a bit esoteric for this tribute, it is a fact that my job, the ASPCA's grants department and our nearly $100 million coast-to-coast grant portfolio wouldn't exist were it not for the grant programs that Julie implemented as part of our field's Katrina response.
Henry Bergh left a life of privilege to devote himself to animal protection. By the time he died, he'd given rise to a movement that we've all inherited, and he'd left behind a legacy for which we all bear the responsibility to continue. When I see how he's held in such reverence so long after our founding, I'm reminded that I'm part of something great. I'm lucky—we're lucky—to have him as an inspiration. In Heritage of Care, I get an impression of a man who embodies resilience, compassion and an unwavering sense of justice combined with a special blend of enthusiasm, passion and gravitas that inspires you and keeps you on your toes. These are traits I see and have experienced in Julie, and there's no doubt that the sequel to Heritage of Care will include a chapter devoted to her, and I suspect she'll be referenced in all the others!
She'd laugh me out of her office if I called her a "living legend," but she's undeniably made and continues to make a mark on history, so pinch yourself if you're reading this and you work in animal welfare, because even if you've never met Julie, you, too, are lucky to have her as an inspiration! 
Please join me in congratulating Julie Morris on 25 years of service to companion animals!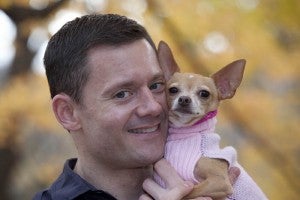 Michael Barrett has led the grants department at the ASPCA since 2008. Previously, he worked for the Gulf Coast Task Force at New York's regional grantmaker association, Philanthropy New York. Michael lives in New York City with his dog, Binah, who was rescued by the ASPCA from a puppy mill in 2010. 
Related Links
Blog: "Animal Rescue and Hurricane Katrina: The New Normal"