They Did It: Organizing a Pawsitive Protest
Why were drivers in Orlando beeping their horns? No, it wasn't because of theme park traffic; it was because they saw this sign: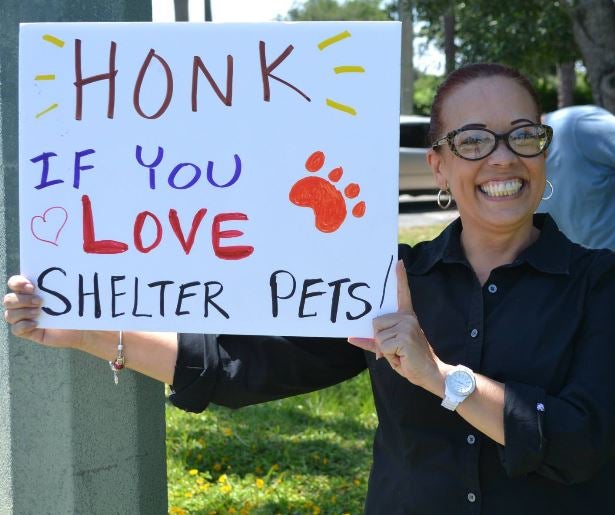 When Orange County Animal Services (OCAS) was approached by a local hotel wanting to send 10-15 employees to volunteer for a day, staff considered how to put them to work in the most meaningful way. According to OCAS marketing and public relations coordinator Carolina Devine, there wasn't enough time for proper animal handling training, and there were only so many paint brushes and brooms to hand out.
That's when OCAS came up with the brilliant idea of a Pawsitive Protest. The shelter is "tucked away," as Devine puts it, and they wanted to let people know that they were there—and full of pets waiting for homes. OCAS set up the hotel employees at a busy intersection and gave them signs to hold, like "Adopt Your New Sidekick" and "Honk If You Love Shelter Pets."
"Many of them honked when they saw the sign. We also had many roll down their windows and tell us they have a rescue pet," reports Devine.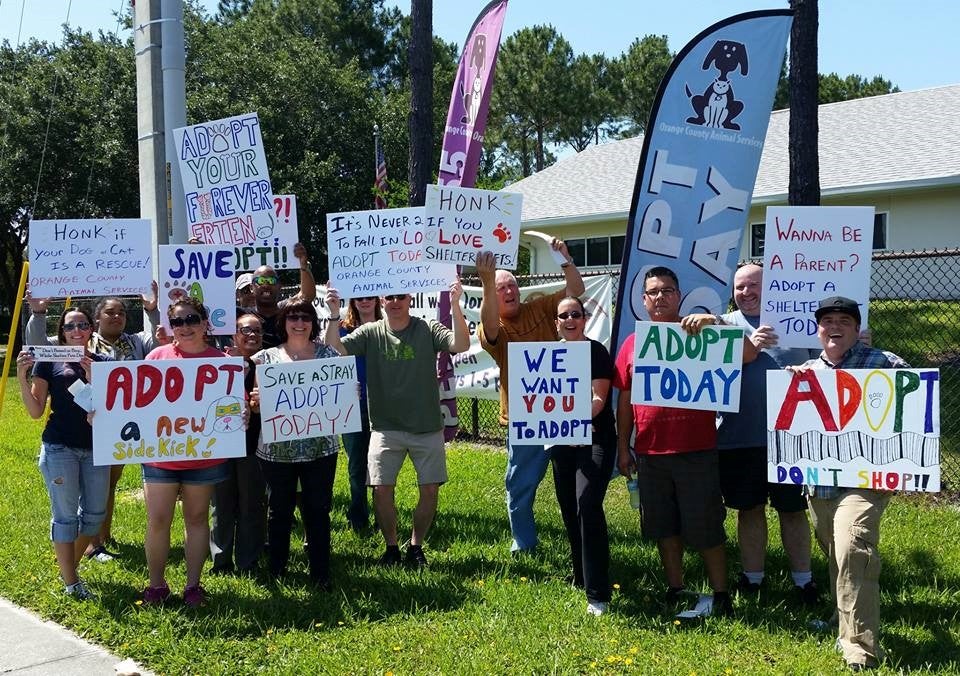 The "protest" turned out to be a successful traffic driver! When cars stopped at a red light, the volunteers shouted, "Turn now to meet the pets!" and handed out brochures and directions. "We had people turn into the shelter who had never heard of it before," says Devine.
And while OCAS says they can't be sure if the adoptions that occurred that day resulted from the volunteers' efforts, staffers were thrilled that more people now know where to go to adopt a pet, even if they didn't stop for a visit that day. 
Since holding the "protest" almost a year ago, OCAS has taken the idea to the next level. "We have done this again with our volunteers, particularly on adopt-a-thon days, and we've even had a graphics team print signs that are easily read from farther away," says Devine.
If you'd like to give an idea like this a try, OCAS shares the following tips:
Educate volunteers about your agency; provide them with useful stats and talking points to share with people they talk to
Instruct volunteers to stay on the grass/sidewalk and not walk in the road
Make sure they dress appropriately for the weather, as they'll be standing outside
Got any of your own out-of-the-box ideas for raising awareness about your agency? Leave a comment and tell us about it!
Related Links
Top Three Tips for Volunteer Success
Big Goals, Small Staff? Volunteers to the Rescue!