Recent Comments
Thank you Peggy Brown. These are exactly my feelings. Sometimes saving means letting them go. Doing...
Kellie Snider, you make valid points regarding assessments and marketing, and I agree with you based on...
By Lynette Elliott on Home-able - 9/20/2016 at 2:00pm
Well stated, Roxanne. I totally agree.
Color Code Your Laundry Bins
Get a load of Asheville Humane Society's answer to keeping it simple and safe in the laundry room.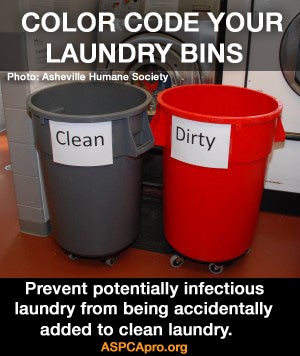 Does this color your perspective on preventing cross-infection—or have you already given this idea the green light? Leave a comment and share your thoughts.
Related Links
21 Life Hacks Shelters Can't Live WIthout