Recent Comments
My adult cat still nurses on my ear when he is being affectionate. Sometimes cats/kittens will do this if...
In the case of a dog or cat being adopted as a gift, I still think that the recipient of the gift should...
Yes! Another smart and important post from Dr. Emily. Thank you!
Color Code Your Laundry Bins
Get a load of Asheville Humane Society's answer to keeping it simple and safe in the laundry room.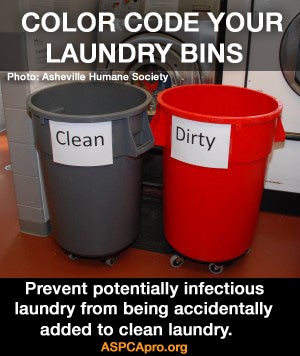 Does this color your perspective on preventing cross-infection—or have you already given this idea the green light? Leave a comment and share your thoughts.
Related Links
21 Life Hacks Shelters Can't Live WIthout