Recent Comments
A stray dog that came into our care found his human companion, after having gone missing in August 2014...
When managing Ozuakee Humane Society in the 90's, I received a phone call about a doberman who had been...
We have seen a dramatic change vet the past year and a half. Until then we typically had a 4-month wait...
Color Code Your Laundry Bins
Get a load of Asheville Humane Society's answer to keeping it simple and safe in the laundry room.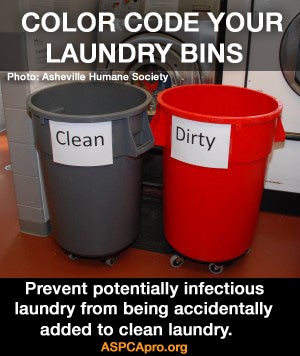 Does this color your perspective on preventing cross-infection—or have you already given this idea the green light? Leave a comment and share your thoughts.
Related Links
21 Life Hacks Shelters Can't Live WIthout