Recent Comments
Good advice, and in most cases I believe this attitude is the best one. Still, there is evil and wanton...
Actually I do this with my outdoor feral cats. Momma acknowledges me with a blink. Papa who is a scaredy...
Thank you for this!! A smile makes the difference! This goes for a pup you have had for years or a new...
Color Code Your Laundry Bins
Get a load of Asheville Humane Society's answer to keeping it simple and safe in the laundry room.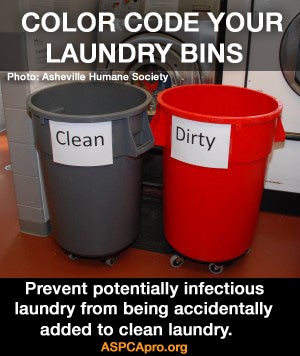 Does this color your perspective on preventing cross-infection—or have you already given this idea the green light? Leave a comment and share your thoughts.
Related Links
21 Life Hacks Shelters Can't Live WIthout