ASPCA Partnership Update: Congrats, Miami!
The ASPCA is excited to announce that Miami-Dade has officially graduated from the ASPCA Partnership program. Working together during the 5-year collaboration, our partner agencies—Miami-Dade Animal Services (MDAS), Humane Society of Greater Miami (HSGM) and The Cat Network—have made their community a safer and more humane place for both pets and their people.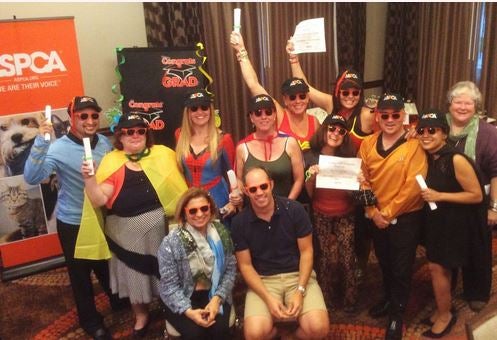 Since the ASPCA's partnership with Miami-Dade began in 2010, the community has seen substantial improvements in the lives of its animals through November 2015, including the following:
The Live Release Rate increased from 41.2% to 89.1%, a 47.9 percentage-point increase
Transfers to shelters and rescues increased by 28%
Intake decreased by 25%, with fewer dogs and cats in need of shelter care
The rate at which community felines were spayed/neutered/vaccinated and returned to the field reached 58% through MDAS's TNR efforts
The canine adoption rate increased from 35% to 52%, a 17 percentage-point increase
The collaboration has led to many advances:
A new focus on large-scale adoption events, like the ASPCA Mega Match-a-thon, resulting in 2,315 adoptions from partner agencies over the course of the collaboration
The addition of numerous staff members at MDAS, including eight adoption counselors, a volunteer coordinator, foster care coordinator, community cat/TNR coordinator and a pet retention counselor to provide safety net resources
The acquisition of a mobile pet transport and adoption unit, the Helping Our Pets Everyday (HOPE) Express, which is regularly scheduled for monthly pet transports to partner agencies and is used throughout the community for offsite adoptions
The implementation of an Adoption Ambassadors program, an innovative program where foster families market their fosters and complete the adoptions offsite
The Milkman program, in which ACOs provide home delivery of neonate care kits to finders of newborn orphaned kittens
The ASPCA's Joan Carlson-Radabaugh, Director, Community Initiatives, says the three agencies have significantly improved outcomes for homeless dogs and cats in their care through collaborative efforts and engaging the community. "The Miami partners have taken a proactive approach in all areas of their work. The dedicated staff and volunteers of the Humane Society of Greater Miami, The Cat Network and Miami-Dade Animal Services have implemented innovative programs significantly reducing animal homelessness in Dade County."  
 
Although the agencies are graduating from this program, this isn't the last we'll hear from our innovative Miami-Dade partners—stay tuned as we shine the spotlight on their next lifesaving projects!
Related Links
Blog: "Bienvenido a Miami"
Blog: The Data's In: Miami Partners Sizzled in 2014!