Are You Ready to Do It?
Dr. Emily Weiss suggests a simple shift in process that can free up staff, cage time and resources.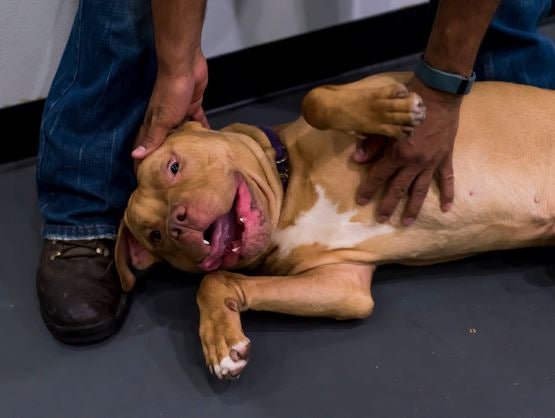 "Dr. Weiss—We are doing it!" I heard as I was making my way over to the refreshment station at this year's SAWA conference. The "we" was Woods Humane Society—and the "what" was piloting the use of C-BARQ (Canine Behavioral Assessment and Research Questionnaire) as a replacement for a traditional canine assessment for owner-relinquished dogs.
Last spring I wrote a blog about the tool C-BARQ, in which I suggested that it just might make the best sense to stop conducting traditional behavior assessments on owner-relinquished dogs and instead move to this survey tool. We know one of the best predictors of future behavior is past behavior, and in the case of owner-relinquished dogs, they arrive with the person who can best tell us about this past behavior.
Not only does eliminating a traditional assessment save time, and potentially decrease length of stay in this case, it can free up your skilled, trained assessment staff to be able to support the at-risk dogs and cats in your care.  
As we clearly communicate in our SAFER® program, no one tool should be used in isolation. However, as an initial tool to quickly track owner-relinquished dogs toward live outcomes, C-BARQ just may be the key—and thanks to Woods Humane Society, we have some real experiences to share.
They made the switch to C-BARQ from Assess-a-Pet for owned dogs in August of this year. Sue Harrington, the Director of Operations at Woods, reported: "This switch has made a tremendous change. Previously we had a policy for owner surrenders that we would take the dog in, and AFTER the dog had been given a formal assessment, we might call the owner to come retrieve their dog if he or she wasn't going to work in our program. Depending on when the dog came in, this could be several days after surrender. This change to the C-BARQ allowed our Intake Coordinator to gain an understanding of the dog's behavior in the home and clearly identify behaviors that would not be workable here. Our Intake Coordinator can have this discussion with the owner prior to taking the dog in, and provide them with some alternatives for rehoming their dog without surrendering here. Our goal was to try to reduce the overall length of stay for our dogs. In the past, it may have taken a dog 7 or 8 days just to get through the behavior assessment, health assessment, surgery, etc.—before he even became available for adoption. By having the ability to screen dogs prior to actual surrender, we have successfully shortened our length of stay for owner-surrendered dogs from an average of 19 days to an average of 13 days."
On top of that, they found returns to be relatively stable—from 10% prior to the change to 12% after—with the numbers of returns for aggression or similar unchanged.
Look—traditional behavior assessments used to be all we had… but that is no longer the case. Now that C-BARQ has a shorter survey, and research to support its efficacy, it just makes sense to free up staff, cage time and resources, and give C-BARQ a try for those animals coming with people who know them. I strongly encourage you to do as Woods Humane did. Piloting new tools and processes gives you the opportunity track the impact, as well as makes change a bit easier to swallow.
Few things make me happier than hearing from you about shifts in process you have made after getting an idea through ASPCApro.org. Please let me know if you are ready to pilot the C-BARQ shift!
Related Links
 
Blog: "Don't Assess... (Well, sort of)"