Adoption Ambassadors: 3 Super-Sweet Success Stories
Since September of this year, more than 750 agencies across the country have been working the Adoption Ambassadors campaign, empowering foster parents to find a home for the animals in their care. We're excited to report that the success stories have been rolling in, and we've chosen a few of our favorites to share with you.
These stories were submitted to us from the folks up close and personal with the program. So here they are—in their own words!—real accounts of Adoption Ambassadors out there saving lives.
Agency: Pearl River County SPCA
Adoption Ambassadors Animal: Lilly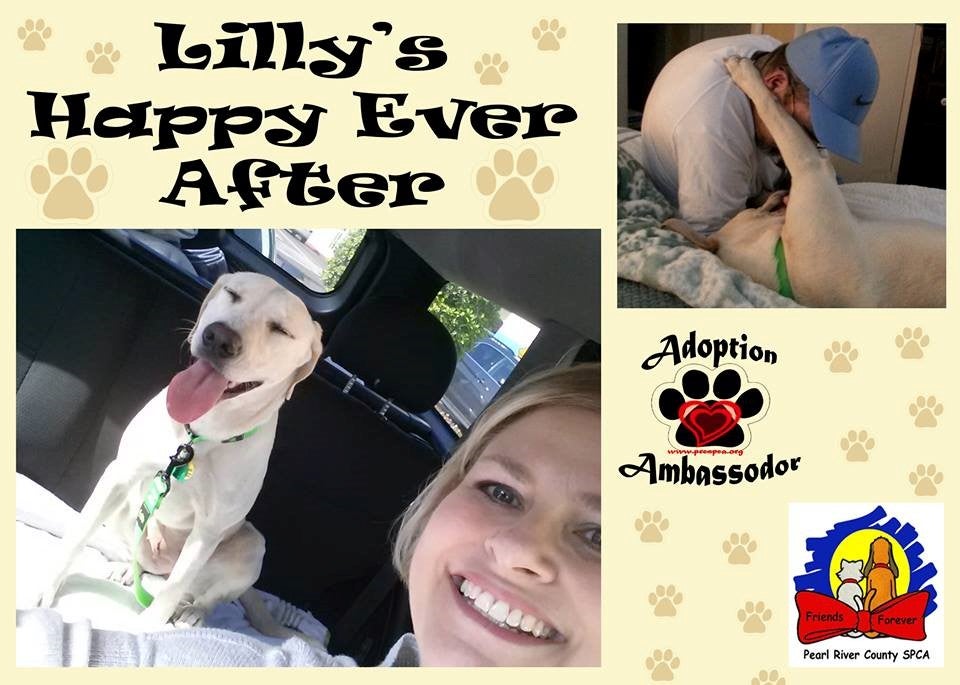 "One of our Adoption Ambassadors pulled Lilly the week before Thanksgiving. In the shelter, Lilly was very subdued and shut down. Her foster mom placed ads on Facebook, where her new family spotted her. Once in a home, she blossomed into a spunky young dog with impeccable manners.
Lilly's family recently sent this update:
'Lilly hasn't missed a beat after the first 24 hours. She is nonstop. She runs constantly with Max, our 2-year-old Lab. She discovered the entire basket of toys and is constantly throwing them in the air. They now bird-watch and chase squirrels up the trees. She plays with tons of kids every day, too. She also has decided my bed is her nap bed; she is a perfect fit. So glad we met and were able to get her from you. If you hadn't fostered her, I wouldn't have known how awesome she is.  So thank you.'"
—Submitted by Melissa Pederson
Agency: Lenawee Humane Society
Adoption Ambassadors Animal: Roxy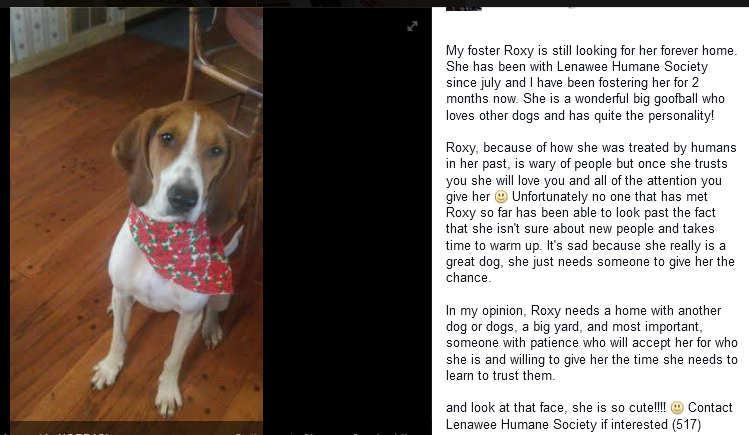 "Roxy the 1-year-old coonhound was found this past summer, running for several months with her twin sister. They had been living wild in the woods, and when they were finally caught, they were severely unsocialized and fearful. After her sister Foxy was adopted, Roxy pretty much shut down in our shelter.
She needed to be around other dogs, to run and to bond with one or two people at a time instead of being bombarded with strange faces. She was perfect for the Adoption Ambassadors program. We set her up with her official Ambassador, Laura, and we watched this dog transform.
She bonded with her Ambassador, played with the other three dogs in the home and even picked up basic commands. Roxy gained a huge following through the social media posts Laura would put up, including cute videos and pictures of Roxy sitting in front of the Christmas tree.
Roxy was no longer a terrified dog in a shelter—she had become a loving pet, and people could finally relate to her. The last post from Laura had people scrambling to meet this dog, and she was finally adopted last week!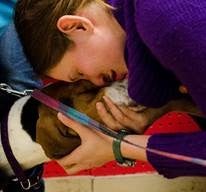 Our favorite picture is of Laura saying goodbye to Roxy. Laura, along with the Adoption Ambassadors program, saved Roxy's life. Thank you!!"
—Submitted by Sasha Wilkerson
Agency: Texas Humane Heroes
Adoption Ambassadors Animal: Jelly Bean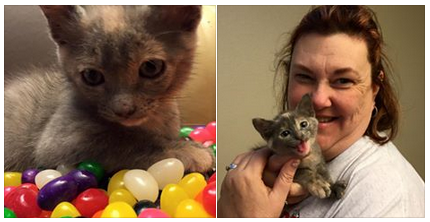 "From dumpster to fur-ever family. This Adoption Ambassadors animal found her permanent home just in time to have a seat at the table for Thanksgiving!
About six weeks ago, Jelly Bean was rescued by a good Samaritan who saw her being thrown into a dumpster, and rushed her to the local animal control facility. Our intake team was there less than 30 minutes later and brought the three-week-old kitten to me. I couldn't help but bring her home.
With about six weeks of TLC, fattening up and socializing with kids, cats and dogs, she is set for her next big adventure. It's tough to see them leave, but it's love that sends them off."
—Submitted by Jon Blanker
Have you given Adoption Ambassadors a try? We'd love to hear your stories!
Related Links