Tip of the Week: Get the Party Started
Who needs a calendar, anyway? There's no time like the present to try out Albuquerque Animal Welfare's fun and festive idea that engages staff, enriches the dogs in your care AND provides opportunities to promote them on social media.
The inventive team at the ASPCA Partnership agency throws pretend birthday parties for their canine residents. And nope, it's not just a good excuse to eat more cupcakes—double up on enrichment time to give the pup some special attention, break out the treats (a great project for your young volunteers!), pop on a party hat and bring out the camera.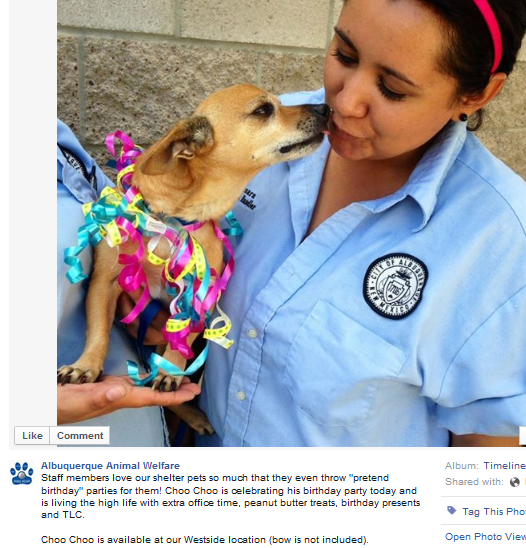 This post serves as a way to promote Choo Choo for adoption and spreads such great vibes about what a caring, fun place shelters can be.
Tried it and liked or would like to give it a try? Share your thoughts in the comment box.
Related links:
"Tip of the Week: Make It Pop!"
Webinar: "Enrichment for Shelter Dogs" with Kelley Bollen
Get our Blog content delivered direct to you.
The latest posts from ASPCApro experts and thought leaders delivered directly to your inbox.
Explore ASPCApro Tools & Tips by Topic: