How Do Adopters Choose The Pet They Do?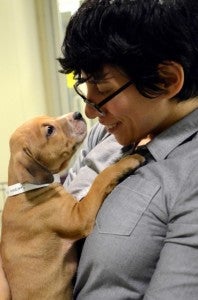 Looks. Behavior. Jumping and climbing all over visitors... What's the biggest driving factor behind an adopter's selection of a dog or cat? Today's blog, first published in 2012, revisits some ASPCA research on adopter choice, with some food for thought from Dr. Emily Weiss.
Why Do Adopters Choose the Pet They Do?—originally published April 8, 2012
Last year, from January to May, we collected survey data from adopters at five participating shelters:
Hillsborough County Animal Services (Tampa, FL)
Charleston Animal Society (Charleston, SC),
Animal Rescue Foundation (Walnut Creek, CA)
Wisconsin Humane Society (Milwaukee, WI)
ASPCA Adoption Center (New York, NY)
The focus of this survey was to learn what factors influenced the adopters' choices when selecting their pets. The results are fascinating!
Appearance and Behavior
We learned that adopters were driven by different factors when selecting dogs vs. cats. Appearance was the driving factor for dog adopters, while behavior with people was most important to cat adopters. Digging deeper, we saw that puppy and kitten adopters reported appearance as the most important factor in their choice. If appearance is an important driver, it may help us to guide folks to be thoughtful about behavior as they choose based on looks – they love the long hair of that collie mix there, so let's dig a bit to learn what their expectations of how that pup will interact in their home, and be sure we help communicate how that dog may or may not meet those expectations.
Interaction
We learned that touching and interacting with the animal is an important factor – and drives choice more than how the dog or cat behaves in his cage or suite. This is an important item to note, as we may be able to increase adoptions by encouraging more interaction. We asked adopters what the pet they chose did when they first met him or her. The most common answers were all interactive social behaviors – for cats they noted approaching/greeting, vocalization and rubbing, while dogs were likely to approach, lick or jump/climb on the adopter. Interesting to note that the dogs the adopters chose were likely to jump or climb on the adopter – perhaps a behavior that many in shelters work to decrease may not be considered a "bad" behavior by our adopters.
Information Sources
Another interesting finding – the information source the adopters found to be most important was by far the staff and volunteers. Let's be sure to empower staff and volunteers with all the information about the individual dogs and cats in our care!
This research, in which the ASPCA's Dr. Kat Miller played a lead role, was just published in the peer-reviewed journal, Animals. One of the nifty things about this journal is that it is open access – meaning it is easily available to everyone. Here is the link to the article. Also, check out the great article the Wall Street Journal just published about the research.
Stay tuned to this blog – I am going to dig a bit deeper into some of these findings over the next few months. There are some really interesting nuggets that may affect operations and marketing at your shelter. What are your thoughts?
Related Links:
Blog: "He's Got the Look"
Wall Street Journal article: "Selecting a Pet"
Comments
About the Author
Emily Weiss, PhD, CAAB
ASPCA Vice President, Research & Development
Dr. Emily Weiss' work at the ASPCA involves developing programs and processes that focus on impact on animal welfare. In her previous work as a behaviorist, she developed training programs to improve husbandry and decrease stress for many zoo animals. She has also developed assessment tools for shelter animals, including the SAFER assessment and Meet Your Match Canine-ality, Puppy-ality and Feline-ality. Dr. Weiss is co-editor of the Journal of Applied Animal Welfare Science, and has published and lectured extensively in the field of applied animal behavior.
Get our Blog content delivered direct to you.
The latest posts from ASPCApro experts and thought leaders delivered directly to your inbox.
Explore ASPCApro Tools & Tips by Topic: