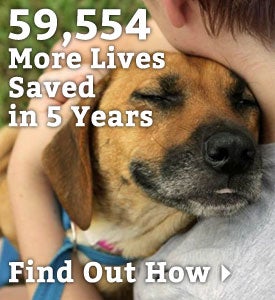 ---
Top Tips from Challengers
Waiving and reducing adoption fees
Celebrating every adoption and adopter
Foster care and Adoption Ambassadors
---
Takeaways You Can Use Now
* Winning Tactics
* Motivating Staff & Volunteers
* Getting Community Support
---
Wrapping It Up
---
What's Next?
Want to be in on the next lifesaving innovation? Sign up for the ASPCApro e-newsletter.

2014 Challenge Winners
The 5th and final Challenge winner was Central California SPCA in Fresno, CA. The results of Months 1, 2 & 3 are in, and the 50 Challengers have saved a total of—wait for it—68,805 lives! This number represents some serious awe-inspiring hard work and surpasses past Challenge records! The columns below show the increase in the number of lives saved in June, July and August 2014 compared to the lives saved during the same time period last year, as well as the total lives saved by each contestant during the Challenge.
For June, July and August 2014, the combined total increase in lives saved is 16,789.
* Indicates numbers rounded up to the nearest whole number because transfers are calculated in .5 increments.
| Overall Rank | Challenger Name | Division | Months 1, 2 & 3 Increase in Lives Saved | Total Lives Saved |
| --- | --- | --- | --- | --- |
| 1 | Central California SPCA - Fresno, CA | 5 | 1612 | 2640 |
| 2 | City of Stockton Animal Services -Stockton, CA | 5 | 1533 | 2516 |
| 3 | San Antonio Animal Care Services - San Antonio, TX | 5 | 1402 | 5672 |
| 4 | Foothills Animal Shelter - Golden, CO | 4 | 1006 | 2664 |
| 5 | The City of Oklahoma City Animal Welfare Division - Oklahoma City, OK | 5 | 896 | 3792 |
| 6 | Pima Animal Care Center - Tucson, AZ | 5 | 636 | 3682 |
| 7 | Humane Society of the Pikes Peak Region - Colorado Springs, CO | 5 | 574 | 3204 |
| 8 | Clay County Animal Care and Control -Green Cove Springs, FL | 2 | 562 | 1049 |
| 9 | Southern Pines Animal Shelter -Hattiesburg, MS | 3 | 551 | 1255 |
| 10 | The Anti-Cruelty Society - Chicago, IL | 4 | 495 | 1552 |
| 11 | Kansas City Pet Project - Kansas City, MO | 5 | 491 | 1989 |
| 12 | Arizona Humane Society - Phoenix, AZ | 5 | 477 | 4446 |
| 13 | Angels of Assisi - Roanoke, VA | 1 | 418 | 812 |
| 14 | Ventura County Animal Services -Camarillo, CA | 4 | 418 | 1858 |
| 15 | Alachua County Animal Services -Gainesville, FL | 3 | 415 | 1488 |
| 16 | Williamson County Animal Control and Adoption Center - Franklin, TN | 2 | 384 | 893 |
| 17 | Lynchburg Humane Society - Lynchburg,VA | 1 | 378 | 728 |
| 18 | Coastal Humane Society - Brunswick, ME | 1 | 360 | 826 |
| 19 | Fox Valley Humane Association -Appleton, WI | 2 | 345 | 648 |
| 20 | Moreno Valley Animal Shelter - Moreno Valley, CA | 5 | 333 | 1226 |
| 21 | The NOAH Center - Stanwood, WA | 2 | 324 | 1259 |
| 22 | Humane Society Calumet Area - Munster,IN | 1 | 291 | 648 |
| 23 | Shelby Humane Society - Columbiana, AL | 3 | 278 | 970 |
| 24 | Pinal County Animal Care - Casa grande,AZ | 4 | 270 | 932 |
| 25 | Unleashed Pet Rescue and Adoption, Inc. - Mission, KS | 2 | 261 | 722 |
| 26 | Thomasville-Thomas County Humane Society - Thomasville, GA | 2 | 214 | 393 |
| 27 | The Humane Society of Washington County, Inc. - Hagerstown, MD | 3 | 208 | 882 |
| 28 | First State Animal Center - SPCA, Delaware - Camden, DE | 4 | 206 | 922 |
| 29 | City of Pasadena (TX) Animal Control and Adoption - Pasadena, TX | 4 | 201 | 683 |
| 30 | Williamson County Regional Animal Shelter - Georgetown, TX | 3 | 183 | 1792 |
| 31 | Gwinnett County Animal Welfare & Enforcement - Lawrenceville, GA | 3 | 150 | 1367 |
| 32 | Everett Animal Shelter - Everett, WA | 3 | 144 | 984 |
| 33 | Humane Society of Charles County -Waldorf, MD | 2 | 119 | 769 |
| 34 | Humane Society of Greater Dayton -Dayton, OH | 1 | 99 | 567 |
| 35 | McMinn Regional Humane Society -Athens, TN | 2 | 96 | 421 |
| 36 | Humane Society of Delaware County -Delaware, OH | 1 | 87 | 384 |
| 37 | Burbank Animal Shelter - Burbank, CA | 1 | 83 | 607 |
| 38 | Humane Society of Memphis & Shelby County - Memphis, TN | 1 | 81 | 437 |
| 39 | Animal Welfare Association - Voorhees,NJ | 2 | 69 | 845 |
| 40 | Spartanburg Humane Society -Spartanburg, SC | 3 | 64 | 819 |
| 41 | Osceola County Animal Services - St. Cloud, FL | 4 | 57 | 985 |
| 42 | City of Chico Animal Shelter - Chico, CA | 1 | 14 | 309 |
| 43 | Greenhill Humane Society - Eugene, OR | 2 | 13 | 696 |
| 44 | Houston Humane Society - Houston, TX | 4 | 0 | 753 |
| 45 | Oakland County Animal Control & Pet Adoption Center - Auburn Hills, MI | 3 | 0 | 994 |
| 46 | SpokAnimal C.A.R.E. - Spokane, WA | 3 | 0 | 844 |
| 47 | Pet Helpers - Charleston, SC | 1 | 0 | 444 |
| 48 | Baltimore Animal Rescue and Care Shelter (BARCS) - Baltimore, MD | 5 | 0 | 1973 |
| 49 | Anderson County P.A.W.S. - Anderson, SC | 4 | 0 | 701 |
| 50 | HALO Animal Rescue - Phoenix, AZ | 4 | 0 | 1774 |